My hair is a pain in the ass.
It's thin enough that it needs to be kept short, because if it gets too long its own weight pulls it flat against my head in sad and unflattering ways that highlight its sparseness.
It grows quickly enough, however, that I really should have it cut every six weeks to keep a short haircut neat and not shaggy.
It has just enough wave, though, that it really needs to be cut by someone with more than half a clue, which means not going to the cheap places, which means that in service to economy I try to stretch 6 weeks into 8 weeks into just-before-the-next-big-event.
All of which means I spend an awful lot of time not liking what my hair looks like.
I got a pretty decent (but expensive!) hair cut in mid-July (right before a family reunion). I probably should have planned for another haircut in late August just as the semester was starting, but I didn't. So, then I started thinking that maybe I could stretch just a couple more weeks to right before my dissertation defense....and I spent the last two weeks like a toddler with a clip holding my bangs back.
Wednesday, I went to a different salon, one that is less pricey and within walking distance, with two photographs of the sort of short pixie cut I was thinking might work.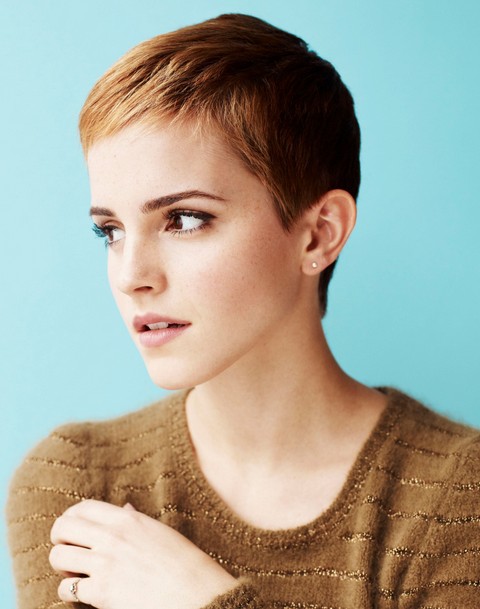 From Marie Clare, December 2010
I came home with something much shorter.
For about five minutes I truly hated it. Then I realized that I haven't loved my hair in ten years, not since it was thick enough to wear long and long enough to be braids or a bun.
Like a lot of women with thin hair, in collusion with our stylists, I had been trying to preserve the illusion of more than was there. I had been chasing the image of femininity that American culture feeds us, the image that pushes so many women toward dyeing the grey or wearing a wig or artfully arranging thinness into the illusion of volume.
Ten years. I spent ten years trying to preserve an illusion. That's just bullshit.
I love all the rest of my imperfections, why not my (lack of) hair?
It feels funny, more like soft fur than hair, but it matches my freckles and my laugh lines.
Whatever else it is, this haircut is honest.